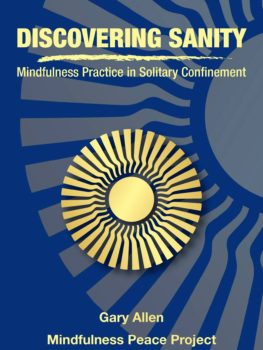 We've put out a detailed guide to mindfulness practice specifically for inmates in solitary confinement called Discovering Sanity. It's the first book on mindfulness aimed at the unusual and challenging circumstances of dealing with the mind in solitary, providing practical instructions for working with conflicting emotions, delusions, and hellish psychological states. It offers ways to instead use the circumstance of solitary confinement to cultivate clarity and peacefulness. 

Discovering Sanity: Mindfulness Practice in Solitary Confinement by Gary Allen provides extensive instructions on sitting meditation, body scanning, and other mindfulness practices. In a clear, straightforward way, it shows how to use mindfulness of daily life in solitary as a means to illuminate the causes of confusion and suffering, while learning how to cultivate a calm, aware, well-balanced state of being. It has a detailed, in depth section on how to transform difficult emotions, including what to do with very stuck, hardened negativities and states of regret. There are instructions on how to ground oneself and handle episodes of post-traumatic stress, and it discusses how to bring mindfulness to interactions with other people, and even to the larger world outside the prison walls. This book offers a pathway from solitary confinement as a place of torment to a place of personal evolution, self-understanding, and emotional stability.
Click here to read an excerpt from the book: Why Mindfulness?—The Power of the Present
GARY ALLEN is the Education Director of the Mindfulness Peace Project. He has practiced meditation for almost forty years. He's taught public programs around the United States, in Canada, and in South Korea. He's been teaching meditation to inmates since 1990.
Buy This Book:
The book costs $20, which includes postage and handling, when shipped within the United States. As inmates in Solitary Confinement can only receive books directly from publishers and bookstores, Mindfulness Peace Project will send the book directly to whomever the purchaser designates.
For purchases shipped outside the U.S., there will be a fee for handling and postage. Please call us at 303-443-0444 to order in this case.