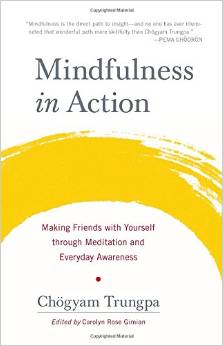 Shambhala Publications has just published a new collection of Chogyam Trungpa's talks, edited by Carolyn Rose Gimian.
Mindfulness in Action: Making Friends with Yourself Through Friendliness and Everyday Awareness
One example that sticks out, from a chapter discussing the skandhas, the construction of our egos or our self-identity, Trungpa Rinpoche says, "Our individuality is really a heap or a pile of disappointment, hope, fear, and millions and billions and trillions of other things. All these little fragments put together are what we call our self and our life. Our pride of self-existence or sense of being is by no means one entity. It is a heap, a pile of stuff. It has some similarities to a pile of garbage. When we refer to something as garbage, we are speaking not about one thing but about a collection of many different things that make up the garbage-ness. All these elements are collected and mixes with one another. As they decay, they become extremely smelly. What we call our selves or our ego is similarly an amalgam of many things put together." (p. 131)
There is a beautiful emphasis in the beginning of the book on gentleness and friendliness. The first section is really beautiful, and has a strong emphasis on being kind, while at the same time being genuine and honest with ourselves. During the entire meditation process, from when we even sit down to the end, there is a sense of appreciation for our world and our environment. This entire process starts with a genuine cultivation of a positive attitude towards ourselves.
What this book really excels in is expressing Chogyam Trungpa's care and love for all of us. This is apparent on every page—he's got nothing to gain in this, there's no advertising, it's almost as if he's pleading with us not to rush and to be less aggressive. He can't do it; only we can. Slow down, relax, and enjoy life and all its precious moments.
http://www.shambhala.com/mindfulness-in-action.html