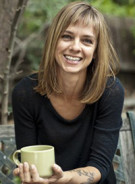 Jenny Bertram was a graduate student in the Master's of Divinity program at Naropa University emphasizing in Buddhist Chaplaincy and Meditation instruction. She originally intended to be a Hospice Chaplain but was strongly pulled into prison ministry when she met Gary Allen at an internship fair on campus. As a volunteer with Ratna Peace Initiative, she began assisting with meditation and dharma classes in correctional facilities, as well as correcting coursework through correspondence for Ratna. Jenny has a Masters in Chinese Medicine and is a Nationally Certified Diplomate of Oriental Medicine. She devoted herself to prison work and teaching dharma as she transitioned from clinical practitioner to teacher. Jenny was thrilled to share her unfolding experience with teaching meditation as a newcomer to the prison community, and wrote the following entries as she made visits as a volunteer to a private prison in Hudson, Colorado.

---
My Gift for the Evening
Originally posted on January 15, 2013
My latest visit to prison was a notable one. Particularly, it was a time to say good-bye to the regular students and the chaplain for a short while; this was my last visit until the upcoming semester ends. My teacher, Lama Tenpa, recently requested that I harness my mind at this time and temporarily pull back from all my volunteer work and my private acupuncture practice to focus on my own meditation practice, as well as my graduate studies. On my last night in prison, I wondered who was going to attend the class and what conversation would transpire. Driving down the prison road, Gary asked me if I was prepared to teach the guys about the twelve links of interdependence, describing the process of karma. With an adamant "No," I replied that I felt too vulnerable and spacious. "Let's see what arises, Gary," and there it was, the theme of the evening, space.
We pulled up to the bright prison lights. I opened the car door, stepped outside and was immediately hit with the familiar yet repulsive prison smell. There is nothing I can compare to this foul odor. It's an all-permeating mixture of the prison air itself and the shit from the factory chicken farm next door. I breathed the thick dank air in, and it filled my nostrils and lungs. In that prison there is no escape from this air. I'm sure both the inmates and the workers are accustomed to it, yet for me, it's a slap to the face, a reminder of the nearly uninhabitable circumstances of most prisons.
With a new worker at the front desk, it took us a little longer than usual to get through security. At this point, both Gary and I had limitless patience and genuinely played the role of visiting prison volunteers. The Chaplain met us with a welcoming smile. We proceeded swiftly with small talk, sharing our holiday experiences, as we walked through the many locked heavy doors slamming behind us. Last night I counted 10; all of these doors are operated by main control. It's comforting yet creepy being on camera this whole time, both reassuring to my mind of fear and uncomfortable to my mind of compassion. I can only imagine that the inmates feel the same, and I wonder how living in such paradoxes affect the prisoners' minds.
We arrived at our destination where old timer "John" was peacefully meditating. John opened his eyes and sweetly smiled at us as Gary and I entered the room. I've never asked John if he's in for life, but by the way he talks I'm pretty sure he's a "lifer." Waiting for others to arrive, he shares with us that a fellow in his pod died this morning. Instinctually, I extended my usual sympathy. He reassures me that he's used to that: "People come and go all the time." I did it again, I thought. John wasn't looking for sympathy or nurturing attention, he was simply conversing, filling me in on the latest happenings. My conditioned mind as a chaplain-in-training was reacting habitually rather than wakefully, being with the moment. Instead of simple kindness and generosity of a simple listener, I created a storyline and reacted to that.
In Rebel Buddha, Dzogchen Ponlop Rinpoche explains: "If there's any way we can really save someone, being genuine and kind is probably the only way. You're not going to save people by pushing them toward a goal you have in mind for them."
I reminded myself, "Drop the storyline and pay attention." By this time regular "Joe" had entered the room in his starchy clean bright orange prison digs and a new knit cap that covered his disheveled red hair. He greeted the group with a big warm hello.
As Joe took his seat, the conversation led to the new prison that the guys will be sent to this summer. The contract at this facility was over and all the inmates were going to be shipped back to their native state, Alaska. Joe and John continued on describing the new place. The prison is a u-shaped facility with two floors in a big open space where 130 guys will be stacked on top of each other. The cells are toilet-less and have glass doors. There will be a total of 6 toilets, lined in a row without any walls or doors a half a block away. There will be no privacy whatsoever in the entire facility. I can't get passed this image. Who designed this place? The word non-virtuous came to mind. Yes, these guys performed terrible things, but they are humans who happen to be fragile humans, usually victims themselves. Prisoners will eventually get spit out of the prison samsaric spin cycle, and we will have no one to blame but ourselves when crime is repeated once they are out. I can't help but contemplate–Are these facilities an extension of the collective attitude in this country? Joe ended the conversation with his comment, "I wish I could finish my time here at this facility." I was just glad to be there with them to possibly prepare them for their next chapter of exposure.
After our initial chanting, we meditated for a long comfortable time. Gary led us into dissolving our "selves," our thoughts, our mind stream into the reality of the surrounding space that held us. The space seeped outside of the room and outside of the prison. It entered us with our intake of breath and exited us with our exhalations. The air that dissolved into the space around us created a fluid-like vital existence, full of fertile potential. This is the nature of space.
We finished as fascinated Joe inquired about our attire. His locked up self wanted to hear about outside excursions. He proudly presented to us his new hat that a fellow inmate knitted with scraps. He then thanked me for my past instruction of yoga poses and expressed that I saved his low back. With love, I said, "You are so welcome, Joe." He put on his black boots courtesy of the correctional facility, slipped on his orange coat, smiled at me and said, "See you in a few months, Jenny." Then he was gone.
John cleaned up the room. I glanced at his back and noticed a hand drawn turtle on his white thermal shirt. I know this turtle; it reflects the story told in Buddhism about the difficulty of our precious human birth. From the Chiggala Sutta:
"Monks, suppose that this great earth were totally covered with water and a man were to toss a yoke with a single hole there. A wind from the east would push it west; a wind from the west would push it east. A wind from the north would push it south; a wind from the south would push it north. And suppose a blind turtle were there. It would come to the surface once every one hundred years. Now what do you think? Would that blind turtle, coming to the surface once every one hundred years, stick his neck into the yoke with a single hole?"
"It would be a sheer coincidence, Lord, that the blind turtle, coming to the surface once every hundred years, would stick his neck into the yoke with a single hole."
"It's likewise a sheer coincidence that one obtains the human state."
And there it was, my gift of the evening, a reminder of our precious human birth from a man who will likely live the rest of his life behind bars. As a being, we can unlock the doors of our own prison mind and realize that with so much space there is limitless opportunity, so much life.
---
The Heart of the Matter
Originally posted on December 4, 2012
Chow was wrapping up the moment we walked out into the yard as the inmates disbanded through the dining hall door, and the guys flooded around us. Suddenly I became enmeshed in a bunch of inmates. Shoulder to shoulder, I momentarily walked with the guys as I felt their astonishment, their confusion, and their joy while they digested that, yes, a female was amongst them. I sensed their vulnerability between wanting to be respectful and wanting to look at me. Eyes recognized me while smiles seemed to brand me. The chaplain (a wonderful man who left retirement from being a trucker to become a prison chaplain) with his blazoned authority, walked next to me calmly. His calmness eased the guys. And in a few seconds the guys vanished to where their orchestrated schedule pulled them.
There, the night began, with a very charged moment that led to what would be a dynamic, heart-wrenching, and awe-inspiring night in prison.
Inside the classroom, long time meditation student "John" and I were setting up the room minutes before the rest of the students arrived. It's been three weeks since our last visit due to bizarre circumstances that led Gary to an accident and the hospital to attend to his bruises and breaks. Hence I was very excited to see the guys and vice versa. I missed them.
While John and I were catching up, an unfamiliar but grinning face with shimmering silver teeth, spider web tattoos that wrapped his arms, and huge brown eyes peaked in the classroom. He inquired if this was the meditation class. Apprehension arose as he awkwardly introduced himself as "Darrin." He asked about the class structure, while he wondered loudly if this is something he could attempt. I admit, his nervous behavior stimulated a little trepidation in me. John sensed the uneasiness and softened the situation by interjecting encouragement. In walked "Joe" and another new face, "Rob" our new war vet who, we found out later, had served two terms in Afghanistan.
With the regulars and the two new guys, Darrin and Rob, we started class. Just as Gary began talking, Darrin abruptly stood up, moved his chair aside, and helped himself to a stack of meditation blankets and a cushion. Class came to a sudden halt as Gary and I assisted him in correct meditation posture. His desire to sit on a cushion was endearing even though his posture was pathetic. Initially most people are drawn to meditation to "drop out" or to search for euphoria as a means to run away. However, this isn't the meditation we teach. Veteran meditators know how in the beginning our bodies hurt while sitting, our legs fall asleep, and our backs begin to scream at us. We don't think we can sit for another minute while the inevitable discursiveness attacks our mind. Meditation gives us opportune space to sit in the present moment without external distractions. By sitting, we begin to see our habitual patterns and our motives and learn how our illusory ego survives by reaching and grasping for any type of acknowledgement. This work is far from running away. It is difficult and painful and it's always been a beautiful process to watch for me. Watching Darrin with his heartfelt enthusiasm sit on the cushion, even though he was terribly uncomfortable, was simply inspiring.
After our initial meditation session as a class, without hesitation, the vulnerable Darrin presented to us that in 3 weeks he will be discharged, and he was terrified as hell. He came to tonight's class looking for help, searching for tools. After his announcement, an array of emotions filled the room. Initially, there was a congratulatory sentiment soon followed by a hollow sadness. There are guys in class that may never get out. Yet, even with this reality, all the guys rallied to support Darrin in a way us on the outside can't begin to imagine. Here were men locked up for reasons that are unfathomable to us, mustering respect for their fellow inmate brother, Darrin, who was about to be set free. A harsh cutting prison reality blanketed the room. Both Gary and I addressed Darrin and the rest of the students about the issue of conceptual thought. It unravels on the cushion along with fictitious emotional storms we hold to be true. A thought is fabricated while our breath is physically happening. We discuss the obvious–the breath we carry with us at all times. This is our reference point. There is no outside savior; our breath is our savior.
Then there was Rob, our other new student. Rob shared with the class that he served two terms in Afghanistan and when he returned he couldn't sleep without his gun or his alcohol. He referred to his M4 as his teddy bear…
Rob continued talking for a while and concluded that it was in his nightly drunken slumbers where he would become violent. He claimed he didn't remember; it was his wife that reminded him of his episodes. Here, in front of me, sat a two-term United States veteran, the son of a Korean War vet. He is an alcoholic and a drug addict, a prisoner struggling with his nightmares, asking us for help among other troubled inmates in a fluorescent buzzing, door banging prison classroom. The last thing I recall telling Rob was, "Don't think, don't fear your breath, let your body breathe itself. It knows what to do."
The conversation in the room continued tenderly as Darrin once again stole the attention of the class as he brokenheartedly explained that his wife is divorcing him. When he's out in three weeks, he will be on his own. The conversation coursed on in a supporting gentle manner among the prisoners.
The voice on the loud speaker (who the guys refer to as "Granny" with smirks on their faces") announced recall. The melancholy inmates collected themselves and one by one we said our goodbyes. I knew I never would see Darrin again. I wished him good luck and told him to keep his chin up; I recommended he search for a free yoga class when he gets out and he looked hopeful as he nervously smiled. Momentarily his fear turned to excitement that he's done his time. We shook hands, and he darted out.
We made our way out of the prison and I drove home as Gary rested. It was late and dark. Tonight I received a gift. It was going to take time to fully digest it. It's been two weeks, and I've never felt more committed to these guys. What made that night's class monumental and awe-inspiring was how these men labeled criminals held the space so compassionately for each other. I observed true compassion with men whose souls have been tossed aside, punished, and branded as worthless by the outside world. Together, we all contributed to a genuine moment of humanness.
As I write I catch myself going back to that night. I'm still in wonder at what I observed, something that I always knew to be true: the inherent kindness in inmates and violent offenders.
This observation confirms my number one rule:
Never ever toss a human heart aside,
Never…
---
The Tight Chronicles of Prison Movement
Originally posted on November 7, 2012
I pulled the door open from outside and stepped into the corridor that eventually led us to the classroom. Moving swiftly towards me as I stood still was the familiar sea of bright orange. A large group of grinning inmates wearing their prison brilliance filled the hallway. Unsure of what to do, I hesitated; the prison chaplain whispered to me, "It's okay Jenny, go ahead." I moved forward and heard one of the inmates say, "Hey, is that a 'skirt' I see?" Externally I disregarded the comment but giggled on the inside as I thought to myself, "Yes, the Thursday night 'skirt' has arrived." Genuine hellos echoed the tight hallway as they breezed by in single file fashion. The inmates were being escorted as a group to their next scheduled activity.
The facility we visit is set up with five different buildings or pods surrounded by their own fencing and razor wire. In actuality, there are five all-inclusive mini prisons within the one big prison. To keep the inmates separated and chaos to a minimum, the choreographed movement between pods is complicated and rigid. That night I learned about the minute-by-minute documentation that made up the tight chronicles of prison life movement. Knowing that every move is being documented is yet another mental construct the inmates must surrender to in order to persist.
I can only imagine "the squeeze" the guys experience when they don't submit to their structured schedule. If I could only teach the inmates the act of devoting themselves to this tight schedule might bring them some extra peace of mind; here is an open door to letting go of the idea of discipline as a punishment for their mistake. This regimented schedule could provide them a reason to drop their bows and arrows. I thought to myself for a moment, "Surrender the aggression and play the role, guys." One of the students poignantly commented about how he longed to do a meditation retreat. He added faintly, "I also dream about being all alone someday." With this comment he hid under the brim of his weathered cap. He choked up and tears welled. Gary and I softly attempted to comfort him with a few words. We knew that this alone time probably would never happen.
After a perfect silence passed, "Gene," the "mohawked" Native American from Alaska who decided to join us for his first meditation class ever, then picked up the conversation.
Although the facility we teach at is located in Colorado, it's a private prison that's part of the Alaska Department of Corrections, therefore, the majority of the inmates are also from Alaska. This makes for a large population of Native Indians. Listed on the weekly chapel schedule are two sweat lodge ceremonies a week. This fact both amazed and relieved me, knowing that the guys have an option of contemplative time besides the meditation class we teach and the theistic religions that usually consume prison chapels. I asked Gene if he ever meditated before, and he replied that his only meditation was done in the sweat lodge. "Perfect" I answered with a smile. He gently smiled in return.
In the outside world, when I tell people I volunteer teaching meditation to male inmates, I often hear comments such as, "You are so brave" or "Aren't you scared being a female going into a male facility?" My answer is a simple no. In the classroom I have only experienced respect and receptivity, like when newcomer Gene peeked his head into the classroom for the first time with an inquisitive smile, asking if he could join. "Of course, of course, please come in," I answered. I have never felt a need to put on any type of act or costume or behave in any superficial way. The only role I play is that of benevolence: my real security in this prison is my heart and in return I receive kind-heartedness from the guys.
In spite of the fact that we teach to an exceptional population in prison, I have thus far observed that people are people everywhere, even in a penitentiary. I've extensively studied impartiality as part of mind-training (lojong) practice and experienced it in depth in the prison. No exhausting or limited mind set of criticism or labeling an inmate as a friend, enemy, or stranger is helpful. If I were to reach out and place my projected mask on all the guys' faces, the only accomplishment would be building my own ego driven identity. Why even go in a prison with such restrictions? To be an effective teacher, I cannot enter the room with a partial, biased mind. In the words of my teacher, Tenpa-la, "With a big mind, everything is possible."
We began to meditate with Gary's instructions, and I glanced up to check in on the guys' meditation postures. Directly on the floor in front of me Gene sat with his immaculately shaved Mohawk still in his sweat lodge clothes. Just like images of the Buddha sitting restfully in perfect meditation equipoise, Gene sat perfectly erect with his ankles crossed and his gaze softly down towards the floor. I glimpsed the others across the room recognizing their humanness, while Gary continued to lull us with his perfect instructions. For those moments, all that existed for me was the prison classroom and the slamming doors that rattled continuously and never let us forget where we were.
The guys were quiet this evening as Gary lectured about the impermanence of the prison. "Someday these prison walls will be dust…" There was palpable stillness in the room as the students listened. The thought of the prison dissolving mesmerized the guys as Gary carried on discussing the nature of our fleeting reality. "Emotions and thoughts will naturally arise and eventually dissipate like all other conditioned existence fluctuating from birth to death. To understand the transient state of impermanence will help us understand the mind's natural thought process…" During the discussion on impermanence, Gene told us that his cellmate has been in prison for 37 years. This comment stung: "Ouch! 37 years in prison!" It was hard to wrap my head around this for many reasons. Gene shared with the group that his roommate keeps him in line. I thought about the dynamics and the tension that may arise in that tiny cell.
We meditated comfortably once more as a group and then finished the evening dedicating the merit of our practice to all sentient beings. I thanked the guys for coming, and they all thanked me back. As I shook Gene's hand, I asked him to come back with his roommate next week. He just smiled and exited quickly to return to his cell on time. Gary and I waited for the chaplain outside the classroom under the chilly autumn stars. Besides a few guards walking around, we were alone among the fencing and razor wire; all the inmates were back in their cells now. I was filled with questions when the chaplain walked up to us. I wanted to know more about the guys' daily lives. This is when I learned about the time chronicles and the tight schedule the inmates were shepherded by. We also got to see the chow hall and the barbershop, as well as the library and the law library. There was also a crafts unit where the guys create and build. I was hopeful and content knowing I was part of this team.
---
The Brightness of Joe's New Hat
Originally posted on October 4, 2012
We drove into the prison parking lot as the stunning red sun was setting on the western skyline. I pointed and commented about the beauty of the bright red sun to Gary, and felt a tinge of guilt in my gut after seeing such beauty from the outside of the prison. I imagined being in the facility as an inmate locked inside watching the sunrise and sunset day after day after day. The notion of time passing in captivity as opposed to time spent outside it is a different existence where seconds and minutes have a little more density than for most of us in the outside world experience.
"Joe" walked into the room hiding under his obviously new bright orange knit cap that was pulled down over his tangled red hair nearly covering his eyes. His orange jump suit looked dirty and worn compared to his new bright hat, and he was carrying a rather large cardboard black briefcase filled with a messy assortment of papers. As opposed to the Joe of last week's wakefulness and readiness, this week he broke my heart with his quiet sadness as I sensed some mental anguish. His eyes were glazed and wide with dark circles and for the first time since I've met him, he had an exhausted appearance that I imagine only prison life provides. For the rest of the night Joe sat quietly with his meditation blankets comfortably stacked under him as he wearily gazed at the floor.
When it was time to start class we all meditated together without any instruction. The transition into quiet stillness was smooth as we sat resting for a while in a circle of awareness. That night with the guys, I experienced an overwhelming sense of admiration and vulnerability. For a while, I sat with my own calm abiding mind and began to wonder about the liberation and what it actually means to live with the mind of true freedom. I meditated with the prisoners and made an effort to analyze my own prison walls. A deep-rooted fear has been inhibiting my own freedom. Not too long ago life handed me a circumstance that sent me seeking out some sort of security when the only foundation I knew was instantly gone. With the inmates as my reflections, I decided to take this opportunity to make a decision. I stepped into my own fear of rejection and began to untangle the restraining web I mentally built as protection. Strangely, I felt thankful for the opportunity to be there–enveloped in a room, embedded in a concrete building, surrounded with razor wire–while observing my mind, I fell back into the true safety net of my presently beating heart. Promptly, I arrived back at my breath.
Meditation quickly turned to a discussion brought forth by "John" on his never-ending cycle of unfulfilled desires. He confessed that his pleasure seeking behavior that consumed his life 24 hours a day, 7 days a week was the un-satiated hunger that led him painfully to prison. He boldly stated that this common thread runs through all of us, the thread of behavior caused by the ignorant belief that if we don't continue to feed the desire we will have a lack of pleasure, life would be meaningless and empty. I bit my tongue; not everyone acts this way. But John's confession about his own experience was at that moment just perfect. He continued to consume the entire conversation while his tone grew angrier and his face got redder and redder. He continued fuming, while he justified his actions that everyone is driven by pleasure and then out of nowhere, switched the conversation to his hatred of his monthly meeting with his case manager. There it was, his temper surged the room.
I felt the need to soften the situation and heard myself comment, "There is a sweet surrender to acknowledging and not giving weight to any circumstance as good or bad. Allowing a neurotic state as it is can give it space to fizzle out." I was relieved when I heard "Phil" chime in, sharing his experience. He explained to the group that the act that put him in prison also damaged his body physically. Choosing to surrender and accept this physically painful body as it is gives him a little freedom to not waste time on victim status. A-ha!! He got it!!! The conversation continued, and at the end of the discussion Phil shared with all of us that the last meditation class was pivotal for him. He understood that even though he was in pain, he didn't have to over-react to his suffering and make it worse.
Finally, quite skillfully, Gary recommended we meditate again. As a collective we focused our minds back to the breath and meditated once again. We dedicated the night's merit and ended class. I quietly took down the altar and began to say my goodbyes by shaking hands. I made it over to Joe. "Joe, you were quiet tonight. You doing ok?" He answered by telling me that he had a lot on his mind. I told him I was happy to see him. We shared a friendly moment, his chin lifted, and I said, "I appreciate you coming to class. See you next time okay, Joe?" For the first time that night, from under his bright orange hat, I saw a smile.
I walked out of the chapel and noticed the orange moon hovering over the facility just as the sun was when we walked in. When I climbed back into the car, I thought out loud, "One never knows what will transpire in a prison chapel." In the short time we were there I experienced my own imprisonment, Joe's anguish, John's anger, and Phil's peace; and somehow we managed to bring it back to our breath.
---
Progressive Stages of Meditation on Emptiness
Originally posted on September 24, 2012
We rounded the corners of the dusty road that carries only prison vehicles, farm trucks, and mysterious semis, giving rise to the question, "What are these semis carrying out here and where are they coming from?" Intrigued by the theater this prison provides, I comment as we turned the last corner, "What's tonight going to bring us, Gary? What kind of magic is about to go down?" Not even a second passed when we both noticed the golden halo and rays of sunlight bathing the correction facility with its glaring spirals of razor wire. I reached for my phone to take a picture but remembered that I cannot jeopardize this precious time with the guys. A photo posted publicly might hinder our visits and the warden could shut us down. So… I placed the phone back in my bag and let go of it gently, and Gary and I took in our first magical moment of what was about to be an epic eve in the prison chapel.
We signed our paperwork and made our way through security. There we sat quietly and waited for the chaplain. The moments waiting to be escorted to the chapel are always intense minutes of what I would compare to a sort of alchemy. It's when I distill my vulnerability into an essence of readiness. I sat directly in front of the metal detector and listened to the heavily armed guards talk shop. While they chatted, I studied their bullet-proof vests and the rest of their uniform with all its implements. I confess I had an intense aversion towards their "artillery" and began moving into a downhearted state when suddenly the chaplain sounded the buzz that allowed us to enter the prison, and soon we were whisked away. The three of us weaved through vacant, echoing hallways and many doors until we arrived at our destination. Once again, as usual, "John" managed to set up an impeccably perfect altar.
Before the rest of the guys, arrived John talked about how many different prisons he's lived in and lightly joked about his possible upcoming fourth parole hearing. In his doubting tone I gathered that he isn't too hopeful, and I sensed a type of surrender to either a long life in prison or the rest of his life in prison. John's matter-of-fact sincerity struck me. His surrendering to a life in prison was unfathomable. Lightheartedly, he showed us his new white hat and new white sneakers that just arrived that day. John was simply happy at that moment, and he was happy that we were there. My teacher, Lama Tenpa, constantly reminds us students to be sincere and not serious. Here is an instance where seriousness would inhibit the potential for peace of mind with a paralyzing rigidity. Naturally John had arrived at that conclusion.
The regulars meandered in and I was relieved to see "Phil" and "Joe" as they entered the room. I'm relieved because they chose to return to class. No one's required to be in the prison chapel. As I mentioned in a previous blog, Gary and I are their teachers as they are ours and our class time together is singlehandedly based on the decision of ALL parties to choose to show up. It's a sort of flawless integrity, a natural causal process that even the guards with their guns are perfectly apart of.
I noticed Joe carrying a book in his hand and asked him if I could see what he brought. My heart leapt when he presented Khenpo Tsultrim Rinpoche's classic book Progressive Stages of Meditation on Emptiness. Almost falling out of my chair, I turned to Gary and commented while on the edge of my seat, "Gary! How did this book make it into the prison library?" I wondered what kind of crazy wisdom was about to unleash in the prison chapel this very night. This is not material easy to grasp; once you think you've got a hold, it slips away. Yet, based on the author's history of clear cutting teachings on ego-clinging, I realized that this night was about to get intensely real exceptionally fast. Joe and I sat with our excitement of diving into emptiness. The time was perfect. But first we would chant and sit with the moment.
We finished up with the appropriate chant for the evening, "the mantra that calms all suffering," the glorious Heart Sutra. We then took meditation posture and sat, first, as Gary led us with instructions, and then in silence. For quite a while I felt the room breathing, in the prison chapel, in silence and at ease.
After we finished our session, the room spun with heightened conversation. Questions and questions and more questions arose, and Gary and I tag-teamed addressing the inquisitions on emptiness as each student began to get a glimpse. Joe grasped the notion of letting go of imputations and fabrications, and Phil asked the brilliant question, "How would the Buddha act after he got stabbed in prison?" Gary and I looked at each other, deciding which one of us was going to attack this opportune moment. I gestured to Gary to take this one. With his many years of experience in prisons, he gracefully proceeded in answering the question. I observed the students beginning to understand that we can experience physical pain without experiencing mental anguish. Together, Gary and I explained that the story-lines we so cleverly design to support our independent status (otherwise called our "victim" status) holds us in patterns of mental turmoil leading to ugly and distressing reactive drama. Their understanding lit up the room, and the chapel glimmered for a moment.
With the night winding down, Gary summed up the discussion with the notion of "One-Taste." The story goes that Buddha articulated, "Just as the great ocean has but one taste, the taste of salt, so my teachings have but one taste, the taste of freedom." No matter where we enter into this ocean, whether we are wading in the shallow tides, in the middling depths or, like myself, diving headfirst in the deep and briny trenches of prison, this taste of freedom can be attained in every moment. Gary reminded all of us in the room that in the beginning as in the middle and the end, the goal is the path of "One-Taste," the path of impartiality.
We sat in a satisfied peace as we dedicated our merit. I watched John take down the altar and without much conversation, the guys walked away and scattered to their cells.
Gary and I quietly made it through the hallways, gates, security checks, and back out through the detector as we signed away on the appropriate paperwork to exit the facility. We walked under the stars through the parking lot and grinned at each other as we got in the car. Tonight's class was quite magical. I experienced complete intoxication from the slice of time I'd just spent in the prison chapel. Driving home, we again rounded the dusty corners. I laughed and wondered out loud, "Gary, how the hell did that book make it to the prison chapel?"
---
Bullfighters, Hippie Bling, and Bodhisattva Commitment
Originally posted on September 4, 2012
This evening's trip for meditation in the Hudson Correctional Facility began with our usual prison visit normalcy. Gary and I made our stop at El Faro Mexican Restaurant, our best-loved "beacon" in Hudson where classic paintings of bullfighters allure my mind before heading in to see the inmates. We drove out to the facility, signed our routine paperwork, and picked up our badges. We conversed in the usual small talk with the guards, and walked our usual route with the chaplain, first through the gated fencing of glaring razor wire, then through the series of heavy metal clanging doors until we arrived at the prison library, our not-so-usual stand-by chapel due to the holy month observance of Ramadan in the other room of the prison chapel.
The altar was already set up when we walked in, with a short aisle of chairs lined up facing one another. There, seated at the very end of the chairs on a stack of blankets was "John" in his orange and white, already beginning his meditation, sitting quietly with his soft white beard and softly gazing eyes. Somehow John escaped chow early to get a few minutes of alone time in the chapel. Walking in on his state of contentment, Gary and I respectfully paused, and John greeted us with his warm, rosy-cheeked, toothless smile. He put on his glasses and shook our hands.
Minutes after our arrival, "Phil" entered the classroom. Phil who is young in age and new to meditation, appears with his long red beard, long red hair pulled back in a ponytail, sallow white skin, and wire-rimmed glasses. He uses a cane to lean on as he walks in. My mind jumps to possible reasons behind the cane, and I immediately remind myself not to fabricate. Phil's been to meditation class before, and we comfortably greet each other with a cordial hello. I intentionally hold a respectful glance with Phil and each of the students. Through the temperament of their eyes, I get a take on their states of mind. Tonight Phil's eyes are clear, fidgety, and awake. Furthermore, by the nicety of sharing a moment through eye gazing, we check in with a sense of presence and a tone of respect that sets an attitude of impartiality during the pre-meditation stage. With a respectful glance, each student is accounted for when they arrive. By habit and by character Gary and I set up a space where fear and criticism do not exist between any of us present. In order for all of this to work, a room of equipoise is in order.
Suddenly, "Joe" arrives to class disheveled, frustrated, and wide-eyed. He explains the phenomenon of "gate games" as his reason for tardiness. "Gate games" are an everyday occurrence in the prison where the cell gates open and suddenly slam shut just as the inmate is about to exit his cell. Joe was 10 minutes late, signifying that these "gate games" were playing with him for a while. I wondered how many physical injuries occur from the premature slamming of the gates, not to mention the irritability and frustration that compounds the discursiveness the guys deal with. My heart breaks as he finally sits in his chair and stops talking.
Holding the space for Joe and the rest of the inmates, we began our chants and without delay focus on meditation. As the room settled, out the corner of my eye, I sensed Phil uncomfortable on his seat. He changed his seating position over and over as the rest of us sat comfortably. I gently gathered my mind back and both Gary and I took a deep breath and re-adjusted our posture as the students followed. Once again we all focused together fundamentally as a group, distilling our calm abiding space of Śamatha.
As I sat in the chapel with everyone, I wondered if I have what it takes to be here in front of these men? Do I have enough experience to sit and help them understand the nature of mind? I certainly have the compassion, and I unquestionably have the time. But can I make the commitment to make good decisions through difficulty on this emotional road without feeding my own ego? I know I can't help everyone…
Certainly my motivation is big (without the naiveté of course), and my intention of getting meditation to all 2.2 million inmates in this country may go a long way, but what exactly is my role here? In my short time working with the prison population, the routine obstacles are relentless: Communicating with an overworked chaplain, lack of notice to the inmates when class will take place, lack of inmates showing up in the chapel, the obstacle of driving an hour out to the prison, teaching a not so easy topic to an exceptional population, etc.
Contemplating my role, I see myself either deciding to sit in the center of my world OR eliminating my reference point of "poor me." Can I sit with these guys in a state of mind where ethical decisions are made for selfish reasons? Eventually this thought faded away when I remembered that this work is not about me, and once again I brought my mind back to my breath and the guys around me as we sat altogether in this prison room of meditation—a place that is surrounded by the normalcy of cameras, guards, and razor wire in a concrete structure in a barren land.
Finally, following the events of Gary's discourse on working with habitual thoughts during meditation, the question-and-answer period involved comparing life in prison to the similar and essential alertness of an electrician (thanks to Phil's personal experience on this), and our session of Śamatha yoga, we summed up the night with another short period of meditation. Through the wall we heard the chanting of the Islamic congregation finishing their day of prayer. Just as the night began with transfixing bullfighting images, the chant transfixed my mind, and I hoped the rest of the guys in the room sensed the crisp and clear surroundings of this very moment. As usual, we dedicated our merit and bowed out. Tonight's meditation class was over.
Before the room emptied, Phil shared images of his beadwork (or "hippie bling," as he called it). He offered me to pick out a piece of his art. When I explained that it's regulatory that visitors and volunteers are forbidden to bring anything in or take anything out of the prison, he explained that his mother could mail me a piece. "Thank you Phil, but I'm here to teach." I'm unclear what Phil's intention was; however, just as it is compassionate to be open and present and understanding, it's also compassionate not to support egomania and manipulation, an epidemic of huge proportion in correction facilities. The lesson to Phil, myself, and others is we do not need to look for justification nor reprimand to simply just be present. The reciprocity here in the prison chapel is not about material objects. The exchange in the chapel is knowledge. When Phil and I parted, I realized he understood as he said good-bye with a sense of satisfaction and a lifted-chin demeanor.
In the end, the guys all left the chapel to head back to their cells and the stoic chaplain with tired eyes and a tired body waited standing outside the chapel for Gary and me. He was anxious to get home to his "beloved," as he refers to his wife. His day was just about over. Out of respect for the chaplain, we walked quickly and efficiently through security where we exchanged our badges for our IDs and once again passed through the parking lot under the arid and windy evening sky.
Driving home staring out the window, I thought of the goodness in the guys behind bars as I recalled the brilliance of the golden fields we drove by earlier, now hidden by the night. I was reminded of Lama Tenpa's Lojong teachings this past week–that no time, no limitation of numbers, and no hardened obstacles will keep me from my commitment. With the simplicity of commitment comes freedom. And I pondered that perhaps it's this concept of freedom that drives me to be with the guys whose normal life is behind bars and razor wire.
---
Protecting the Statue
Originally posted on August 20, 2012
When I sit and meditate with the guys, the inmates in the prison chapel, I'm comforted with a hazy sea of orange. Yes, I did just write, "comforted." I am referring to the ease that I experience, the feedback that reminds me that I am in the appropriate place. There's comfort when I walk through security, there is comfort when the chaplain comes to greet us to swiftly escort Gary and me to the chapel through the many heavy doors, there is ease in the glances from the guys, and there is ease as we welcome the guys to meditation class. The difficult and not so comfortable part is leaving. When Gary and I leave, the inmates remain along with the razor wire and fences, another reminder of their present truth.
In the prison chapel, it's me, Gary, and the guys sitting in a half circle facing a makeshift altar that includes a pic of HH the 14th Dalia Lama, a photo of the 17th Karmapa, and a statue of Buddha. As we begin to meditate with the altar on my left side and Gary on my right, the guys in front of me.
Sitting with a softened gaze I begin to breathe with the sea of orange that surrounds my vision. I sit in open awareness and recall my Teacher, Lama Tenpa's voice, "Just because people do stupid things, doesn't mean they are stupid."
On the outside, the men arrayed in front of me are tossed aside from societal life surmised as "animals" or "evil" or "worthless." Conveniently due to habit and fear, the general public grants them the loaded labels of criminals, felons, offenders, etc., yet, ironically, when I sit in this room it's silent, the men sit with an open posture thirsty for instruction. They are quiet and still as we meditate and respectful and awake during discussion.
The men arrive to the chapel with varying states of mind. "John," an older inmate and long time Buddhist rushes to the chapel with peaceful anticipation of class; he is always the first to arrive smiling with gratitude. While John lays a couple white cloths on the table and sets up the altar, "Joe" arrives and nervously pulls out of his well-worn knit cap a small statue of Buddha and places it on the altar. With adamant declaration he states, "I NEVER want to hold on to that statue again!" Joe borrowed the statue of the Buddha and kept it in his cell for the week. His body drops on a chair in relief. I sense that Joe reverently exhausted himself protecting the statue as he sighs in reassurance of Buddha's safe return. We share a moment, a glance, and a giggle.
After waiting for other students to arrive we begin class. Tonight's class starts with chanting followed by simple meditation instruction from Gary. The "guardless" room becomes still as we sit and breathe.
This prison, with its heightened sense of samsaric suffering and pain, is our university. They are my teacher and I am theirs'. The prison chapel is where the totality of all of our wisdom and skill of the space creates valid logic to lift chins rather than lower gazes. I'm here to remind the guys of their intrinsic goodness, the inner fertile foundation of rational wisdom.
I sense the end of our time together by the wave of nervousness that takes over the chapel – the students need to get back to their cells on time. We wrap up class by dedicating tonight's merit and then the guys efficiently stack the chairs and pick up the room. "John" takes down the altar while small talk lingers in the room for one last minute. We shake hands, share a glance, and finally they depart. The last one to exit the chapel is "John." With a warm handshake, he reminds us to have a safe trip home.
The chaplain, Gary, and I walk through the heavy metal doors seconds before they slam behind us. Our time in prison is over. We present our badges as we leave security. Another door slams and we receive our last handshake of the eve from the exhausted and overworked chaplain. He genuinely thanks us for our generous time with the "forgotten" guys. Gary and I proceed to the parking lot beneath the breezy open sky and under my breath, we smile to one another and I whisper with a sigh, "Bye guys, see you soon."
In the car ride back to Boulder Gary and I digest the evening with detailed discussion of the evening's textural experience. My thoughts of the guys in their prison orange laying in their cells claw at my throat. I am reminded of the essential teachings and the importance of meditation instruction and education in the prison population. Momentarily I acknowledge that this is my work, the opening heart experience of a modern day bodhisattva in training.